Why Choose AppleXsoft?

Award winning file recovery software, works when other utilities have failed.

---

Secure online payment, Get key instantly!

---

Over 1,600,00 customer spread across 138 countries.

---

Safe and non destructive File recovery software

---

The highest quality data recovery software at the lowest cost available on the market today.

---

Our products are available in more than 20 languages!

---

We do not sell our customer information to other company. We do not send out junk mails to our customers.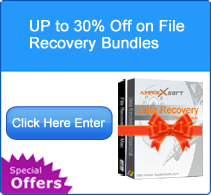 The best data recovery software developed by experienced data recovery experts team!
The leading-edge data recovery software tool which recovers Mac computer's data from deleted, corrupted, formatted partitions and from crashed drives where Macintosh based file system are installed. This Mac Data Recovery Software may recover files from Hard Drives, memory cards, CD/DVD, USB drives and so on.

File Recovery for Mac provides a simple but effective way to scan and find lost partitions, boot sectors and other file system components. It is professional level Mac file recovery software used by data recovery specialists, forensic recovery teams and IT groups worldwide. Mac OS X 10.8 is fully supported.
The New Version 5.5 is Available Now!

15.7 MB $99.95

---

All-in-one digital media data recovery software designed for Mac users, Photo Recovery for Mac features innovative recovery engine, designed to recover photos, images, video, music, documents, or just about anything that can be written to digital media device.

It work with all popular memory card types including Memory Cards, CompactFlash, SD Cards, Memory Sticks, MMC, Micro Drives, xD Cards, USB drives, iPod, CD, DVD, and so on.
Fully compatible with Mac OS X 10.8 Mountain Lion!
18.4 MB $49.95

---

The best data recovery solution to help both software veteran and newbies to easily recover data from deleted, formatted, damaged, or corrupted disk partitions. even if you have reinstalled the Windows system. recover from virtually any logical disk disaster, It works well when other data recovery software fail to retrieve the lost and inaccessible data or partition.
Data Recovery Professional supports file recovery from all types of digital media device.
An easy step-by-step recovery wizard guides you through the process of recovery. It is fully compatible with Windows 8.

7.68 MB $99.95
Recently Asked Questions?
How to recover photos from SD cards of my camera?
You need Photo Recovery software to recover lost photos from your SD card. Attach digital camera to your Mac or simply insert your Digital Film into the reader and run Photo Recovery for Mac on the media and then save the photo or pictures off to another location.

Does Applexsoft File Recovery support the Mac mini, iMac, MacBook Pro (Intel based Macs)?
Yes it will. The Applexsoft Mac File Recovery application is Universal Binary, meaning it will work on both PowerPC and Intel based Macs.

I have accidentally formatted my Mac hard drive, having HFS+ volume. Is there any way to recover data?
Yes, File Recovery for Mac is possible from this HFS+ volume. We get many recovery cases similar to this, as we are the industry experts in Mac platform.

How do I use photo recovery for mac to recover video deleted off my digital cameras?
It is very easy to use, simply connect your Digital Cameras to your Mac computer, or insert your memory card into the card reader and plug it into the computer, run the program on the media and then save the pictures off to another location. more detailed information

What're the advantages of AppleXsoft Data Recovery Pro compared with other recovery software?
It can reconstruct the entire folder structure and recover the entire folder back to the same structure when it was deleted/lost. More importantly, the folders and files recovered by AppleXsoft Data Recovery are all with their original file/folder names so it's much easy to find what you are looking for.